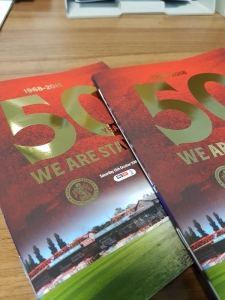 We recently produced the programme for Accrington Stanley Football Club to celebrate their 50th Anniversary since reforming (you can see a picture of the programme here). They wanted to make this particular programme stand out from the crowd to make it a special edition and so we printed it with soft touch laminate and gold foil. We printed 800 copies of this programme which, if Stanley continue to rise through the football ranks and gain a bigger and bigger following, could well become a collectors item in the not too distant future.
Printing Accrington Stanley Programmes For A Couple Of Years
We have printed the programmes for Accrington Stanley for a couple of years now and we are delighted to be part of a local football club that is so community oriented and that is punching above its weight so successfully. At the last home game against Barnsley, which they unfortunately lost 2-0, there were over 4,800 fans in the ground. This just goes to show how quickly the club is growing at this present moment in time and that all the hard work that John Coleman, Andy Holt, and the staff and players are putting in is paying off in a big way.
Printing For Local Football Clubs
We also print the programmes for two more of our local football clubs, namely Blackburn Rovers and Bury, and it is fantastic to be able to do our bit to promote football clubs with such a rich history. When you are printing programmes for football clubs they have to have complete trust in you that you can deliver for certain deadlines and this has worked out perfectly for all sides.
So if your organisation, club or business needs printing done for programmes, brochures or catalogues, as well as any other printing materials, then please contact Ronset at the earliest opportunity for a quote on 01254 297100.