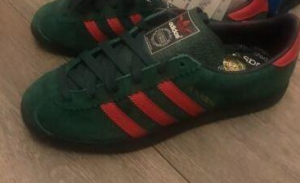 Hats off to Darwen born sneaker designer Gary Aspden who did a fantastic job of both promoting Blackburn and raising money for the local Nightsafe charity last week when he set up the Adidas exhibition in the town centre where the old cotton exchange used to be.
The Blackburn Nightsafe Adidas Trainer
Gary brought along 1,200 pairs of Adidas trainers from his own collection to exhibit as well as designing a brand new trainer, the Blackburn Nightsafe trainer. This trainer was in a limited edition of 200 pairs and the proceeds of the sales were all going to Nightsafe who provide help to homeless people in the local Blackburn area.
Gary`s designs are so popular that people came from as far away as the United States and Australia to join the queue for a chance to purchase a pair of these special trainers. The Adidas exhibition is part of the British Textile Biennial which is running this autumn and celebrates textiles down the ages through art, design and performance. Textile is of course something which is intrinsically linked with Blackburn both past and present.
Strong Roots In Lancashire
What really strikes us about this story is that, even though Gary Aspden has lived in London for many years now, he hasn`t forgotten his roots back in Lancashire, and still feels that strong sense of community which is one of our greatest assets. It is particularly apt that the Adidas exhibition was in Blackburn, as the town and Adidas trainers were very much linked with the rave culture in the 80s.
As a company trading in the town of Blackburn, Ronset have always tried to work alongside the community and help local projects and charities etc whenever we can. It is hugely important, particularly in today`s climate, that we all pull together for the greater good. If you can get down to the exhibition I would urge you to do so, it is well worth a look.