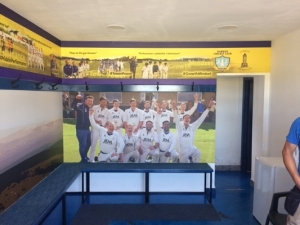 We produced some artwork and created a bespoke wallpaper for Darwen Cricket Club recently which has been placed inside their changing rooms at their ground down at Birch Hall in Darwen. The bespoke wallpaper has gone down very well it seems with everyone down at the club as it both brightens up the changing rooms and helps to give them some extra motivation when they look at the images. It is obviously working as they won the LCB Cup this summer (not that we are taking any of the credit for that of course!!)
We also designed and printed a banner and booklets for their inaugural Beer & Gin Festival which they held this summer too. The festival proved to be a huge success even though the weather did put a bit of a dampener on proceedings on the final day. Darwen Cricket Club are a fantastic community club and we are delighted to work alongside them producing their print materials.
If you require any wide format printing materials such as bespoke wallpaper or banners, or any digital print such as booklets and flyers, don`t hesitate to give Ronset a call on 01254 297100 or fill in the form on our Get A Quote page and we will be glad to be of assistance to you.