We are delighted to say that the Buy It In Lancashire campaign event held at the Samlesbury Hotel earlier this month turned out to be a resounding success. Ronset`s commercial director Chris Durham was on the panel for the event (in the picture second from the right) and he told the audience there that Ronset had been buying some of their supplies from a company in Sussex, but since the launch of the Bring Back A Billion campaign had now switched to a company in Preston, which meant £10,000 a year was now being kept in the local economy.
Bring Back A Billion Campaign Event
In an article in the latest Lancashire Business View magazine (Lancashire Business View are the pioneers of the Bring Back A Billion campaign) it says of the event at the Samlesbury Hotel:
"Business and political leaders came together to show their support for Lancashire Business View's growing campaign to increase the county's GDP by £1bn.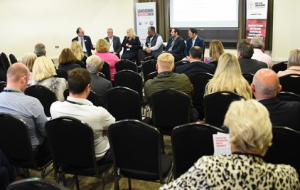 The gathering heard that almost 100 companies and organisations had now signed up to the 'Buy it in Lancashire and Bring Back a Billion!' drive, with millions of pounds already being kept in the county's economy.
More businesses were urged to sign the pledge to divert just five per cent more of their annual spend to county suppliers."
And it also quotes Lancashire Business View publisher Richard Slater as saying "This is not a badge, it's not about a logo. It is a movement, it is a vision and it is starting to get traction. We are creating something that shines a light on the county."
Ronset Committed To Supporting The Local Economy
As a company we are very committed to our local community and always love to get involved in any campaigns that will support the local economy be it in Blackburn or the wider area of Lancashire. This is a great campaign that has every chance of achieving its goals and giving a real long term boost to lots of local businesses.