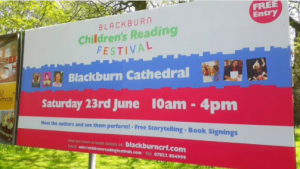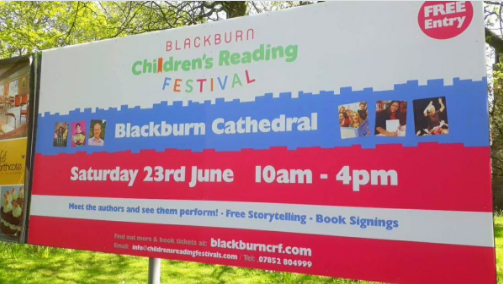 Hello and welcome to our blog here at Ronset Printers in Blackburn. We like to bring you positive community news from the local area so we thought we would share with you that there is a Children`s Reading Festival coming to Blackburn on June 23rd which is going to be held in Blackburn Cathedral.
Ronset Printed The Banner For The Event
We printed the banner for the event which you can see in the picture here, along with the leaflets for it and we are sure it will be an excellent and well attended day.
  Blackburn Children's Reading Festival is set to give children from all cultures, backgrounds and abilities an equal opportunity of attending a literature festival. All these children's events are completely free so if you have a child or children, you want to get them more interested in reading and literature, and you are in the Blackburn area, this is a great opportunity for you and your child/children to attend.
Promoting More Literature & Reading Festivals
 There are more than 350 literature festivals each year in the UK but less than 10% are devoted to children. So the Children`s Reading Festival organisation is trying to redress this imbalance and promote more literature and reading festivals in the towns and cities of the UK. They are trying to work in areas such as Blackburn which didn`t have any representation previously and so give something new for the town and the children of the town to enjoy.
 This is a great venture, we were only too happy to get involved with the printing of the banners and leaflets, and we are sure the event in Blackburn Cathedral will be a success.
Positive Signs In Blackburn & Darwen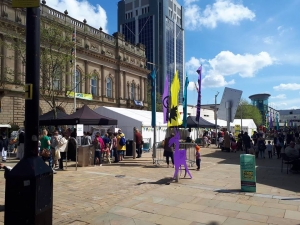 There has been a lot of positive news coming out of Blackburn and Darwen over the last few weeks and months and there is a real vibe that both towns are firmly on the way up. With regards to events Blackburn held a very successful Festival of Making last month, the weather was great and thousands turned up to enjoy the weekend which was partly organised by Blackburn born designer Wayne Hemingway, founder of the fashion label Red or Dead. And in Darwen there was the Live Music Festival over the last Bank Holiday weekend which featured Paul Young and Blackburn`s Grace Davies who made her name on the X Factor.
Darwen is certainly thriving with its  night time economy with many new bars and restaurants opening, and Blackburn is also a great deal better than it has been for some while, so there are reasons for optimism without a doubt.
That is all for this blog post, have a great week and we will be back with another post next week.