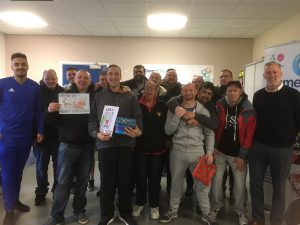 It is that time of year again we are delighted to say and at this time of year we love being involved in producing the Christmas cards that have been created by the people at THOMAS, in conjunction with Community & Business Partners CIC.
Always Hard To Choose A Winner
As you can see by the pictures of the cards here on the blog the people at THOMAS did a great job once again creating and designing the cards, they seem to get a great deal out of this project which is what it is all about. The guy in the picture holding the chocolates was the winner this year (our Commercial Director Chris Durham is on the right of the picture) and the overall standard was very high so it was a difficult decision to pick out a winner.
The guys start designing the artwork in October and we at Ronset choose the winner at the end of November. The Thomas charity and CB Partners will distribute the cards straight away to raise much needed funds for the project.
Joanne Mason, project manager, thanked us for our involvement once again saying: "Thank you ever so much for sponsoring the competition again this year. Its always a slow burner, but it makes us all feel warm and fuzzy once the presentation has been made!"
Holisitic Recovery Focused Services
If you don`t already know THOMAS delivers a range of holistic recovery focused services, which take people from within prison or hospital, through detox and residential rehabilitation into community based provision. They offer drop in facilities, assertive outreach, recovery programmes incorporating cognitive, social and interpersonal approaches, support with wider issues associated with addiction. They provide residential provision, support for those living in their own homes and community-based programmes.
Northern Mentoring Programme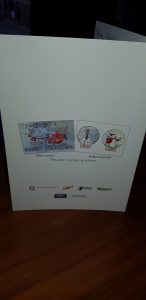 And Community & Business Partners CIC is an organisation based in Blackburn providing services to both the local community and businesses across the NorthWest. Established over 30 years ago, they currently run a number of high-impacting projects and the recently launched 'Northern Mentoring Programme'.
It was wonderful to be involved in such a worthwhile project for a great cause, we are already looking forward to next year!