It is the Hive Blackburn & Darwen Business Awards 2016 tomorrow evening, 26th May, which is being held in the glorious settings of Blackburn Cathedral. We make no apologies in highlighting this event once again as we are one of the sponsors to the event and so we are looking forward to the event.
The Hive Business Awards are a great way to give praise to all the business people and innovators that make our Borough such a vibrant and growing area. There are 14 different awards given out to very deserving recipients on the evening which are:
The Newcomer Award
The Family Business Award
The Buzz Award
The Investing in the Future Skills Award
The High Growth Award
The Innovation Award
The Creative and Digital Award
The International Achievement Award
The Commitment to Blackburn and Darwen Award
The Made in Blackburn and Darwen Manufacturing Award
The Young Entrepreneur Award
The Young Employee Award
The Hive Chairman`s Award
The Arte Et Labore Award
The judging day has taken place on April 28th when all the finalists for the various awards have faced an interview and presentation stage with the judges, and they now face an anxious wait to see if they win their award tomorrow. All the finalists and winners can great take great pride in their achievements and there are certainly plenty of kudos if you win one of these much sought after awards.
If you are going tomorrow we hope we will see you there as it is sure to be a good night for all concerned whether you are up for an award or just attending. It is always good to celebrate what Blackburn and Darwen have to offer in relation to fresh, innovative and dynamic businesses as they are so important in improving the economic state of the area.
Sign Printing For Vans
Moving on from the Hive Business Awards we would like to draw your attention to our Sign Printing service for vans. Here is a picture of one such van we have just done for Best Electrical Contractors Ltd which they are highly delighted with: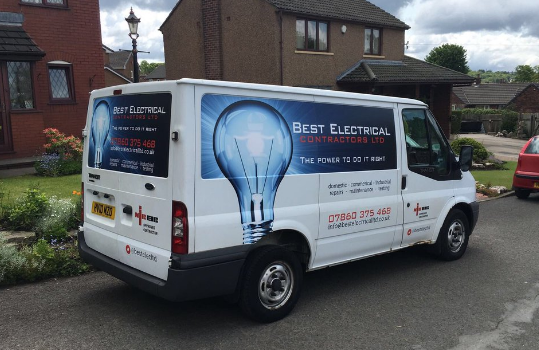 If you would like your cars or vans wrapped by us then please give us a ring for a quote on 01254 297100 or alternatively fill in the form on our Get A Quote Page and we will get back in touch with you as soon as we possibly can.
That is all for today, we will be back in a few days with another post.