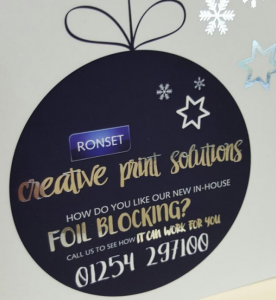 Embellishing a printed product to give it the very best possible finish is a very hot topic in the printing industry at this present moment in time. From spot UV coating through to hot foiling, more and more printers and trade finishers are looking to invest in embellishment technology driven by growing demand from their customers for something that little bit different.
Embellished Print Is A Growing Market
This is a relatively new market, but it's a rapidly growing niche – particularly in the digital print arena. Commenting on the demands for embellished print products Lynn Kolevsohn in, marketing director at Scodix, has been quoted in Print Week as saying:
 "In only a few years, it has become one of the major growth areas within the printing market, and it will have a major impact in the commercial, packaging (labels, folding cartons, corrugated) and publishing market
[in the future],"
 "The driving forces in each one of those segments are different, but they are all working on the same direction: major growth in this market."
She went on to say that:
"We see a huge difference in the market [today] in terms of awareness and the need for embellishment,"
 "If years ago, we had to educate the market of why embellishment and enhancement was needed, today we see a change, that the printers understand, that with the commercial printing market shrinking, printers and brands are looking for a differentiator."
Consumers Happy To Pay For Enhanced Print Finishes
There is no doubt that consumers in the main are happy to pay that little bit more to have their print enhanced with a high quality finish. New devices such as the spot UV foil blocking machine we have in-house here at Ronset has given us the ability to bring a range of print enhancement capabilities, such as foiling, spot UV and raised UV coating, in one easy-to-use system that can be operated by a single person. It has been good to see over the past few years that equipment suppliers are producing machines that are capable of serving a much wider market base than ever before.
So if you like a bit of embellishment you know exactly where to come when it comes to your printing materials! For a quote for any printing materials, either digital or wide format, please give us a call on the usual number which is 01254 297100.