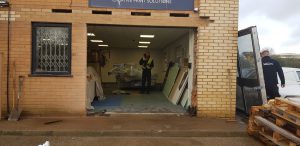 We are delighted to introduce our new Jetrix Flatbed Printer which sashayed its way into Ronset Towers this week. The machine is such a monster infact that we had to build ourselves a bigger door to get it into the building! The installation was certainly not a straightforward one but it will certainly be well worth the effort and pay us back many times over.
De-Commissioning Our Old Printing Machine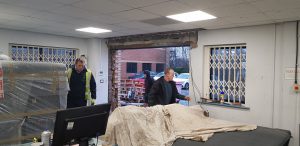 In the pictures here on this blog you can see us getting the machine installed after de-commissioning our old machine, and below you can also see a video of the Jetrix Printer printing white ink on 5mm black foamex.
The Jetrix Flatbed Printer is going to give us a higher performance and more flexibility and versatility in our printing capabilities. It is very cost effective, it gives consistent image quality and will help us to maximise production and so speed up our turnover time for our clients, a win-win situation all round.
Increasing The Value Of Our Printing Services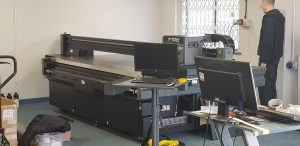 We have really worked hard, particularly over the last 12 months, to both expand and increase the value of our services, and this new printer is part of this strategy. We can provide exceptional quality printing services at affordable prices for customers old and new.
This particular printer will aid us when we are producing products such as roll-ups, wallcoverings, banners, pop-ups, wall graphics, window graphics, posters, floor graphics, traffic signage and much more.
Jetrix Flatbed Printer In Action
As we mentioned earlier here is a video of the Jetrix Flatbed Printer in action, here is is printing white ink on 5mm black foamex.
Finally if you would like to use our printing services please get in touch with us by ringing our offices on 01254 297100 and we will be glad to assist you with anyting you require.