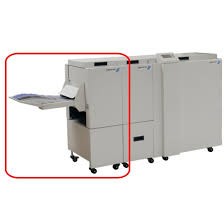 Hello and today we have news of new equipment that we have purchased recently, the Morgana Squarefolder 2000 machine.
This machine goes on the end of our Morgana Bookletmaker and improves the finishing of the product.
 The Squarefolder machine helps to improve the look of any printed booklets by giving them a professional, perfectly bound look with the security of a stapled finish. This revolutionary device can be linked to a wide range of traditional and digital finishing devices.
Added advantages of square folded books are much less packaging capacity and the ability to print onto the spine of thicker booklets. A wide range of booklets can be produced on this versatile, simple to use machine.
 We are really pleased with this new machine as it helps to give our customers an even better quality finish than before and it will certainly be a great long term acquisition for our printing business.
We are forever looking at ways to further improve the quality of our finished products and the purchase of this machine certainly fits into this category. If you require any flat spine booklets please get in touch for a quote initially and we will be happy to oblige.
Moofest 2016 Printed Banners
On another note we printed some banners for the stages at Moofest 2016 which you can see images of below. Moofest was held last weekend on the 9th and 10th July at Wellybobs Farm in Darwen.
This is the 2nd year that Wellybobs Farm have hosted this music festival and it is fair to say that they have not been blessed with great weather on both occasions. But the festival was deemed a great success again, and as the festival showcases local bands it is great that the local community supports this event so well.
We were happy to do the banners for them and we were even more delighted with the feedback we have received about them. If you require any large banners or other wide format print please don`t don`t hesitate to get in touch with us on 01254 297100.