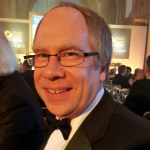 Our new Sales Manager Steve Goodall is looking to boost our turnover and is going to be particularly involved in building up our wide format printing service. Steve has a wealth of experience of wide format print and also a great many contacts in the Lancashire area which can only help to boost the Ronset profile.
Speaking of his move to us in Print Week, Steve said:
"I'm very excited about it, after four years on the road working for an exhibition manufacturer up and down the M6 it's nice to be back with a local base. A lot of my contacts are still in Lancashire and I'm looking forward to reigniting those sorts of relationships and serving those people."
"The key for Ronset will be to expand its wide-format division really and build that and offer people far greater exhibition and event solutions.
"We do have a wide-format facility but we are somewhat limited as to what we are actually producing and there's a lot more kit out there that I've seen and worked with that we can look at."
Getting Steve on board is a great acquisition for us and can only make us stronger, and help us to progress and build our customer base further. We certainly believe that a 10% boost in our turnover is distinctly achievable by the end of the year, which of course we will be delighted with.
Commercial Director Chris Durham is delighted to have him as part of the Ronset team, saying:
"We've known Steve for a good number of years. He's very experienced, he was looking for a new position as he was travelling all over England and was starting to feel a bit weary. So the opportunity came along and we've taken him on."
Wide Format Printing Service
Ronset have steadily been building up our wide format printing capabilities, and we now have a HP Latex 360 which we purchased in January and has been a great addition to our printing machinery, along with our HP Latex 260, an HP 6100 and an HP FB500. For short-run digital printing we it have two Konica Minolta bizhub Press C1085s.
Steve will not just be concentrating on the wide format printing side as he will be promoting our short run digital printing services too.
We now have 10 full time staff and 3 part time staff and are very pleased with the quality and experience of our team.
If you would like to read more about Steve joining our team you can read the article in Print Week at this link: Ronset Sales Manager