Fast turnarounds and good causes are both things we're committed to here at Ronset, which was just as well recently when Paul White from Wise Owl Creative got in touch with Chris Durham, our Commercial Director, through LinkedIn. Paul was desperately in need of a super fast job and we didn't disappoint.
No Time To Lose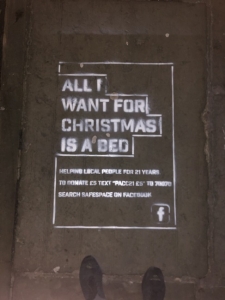 Wise Owl Creative had been let down when some outdoor floor stickers for a Guerrilla marketing campaign proved unfit for purpose.
From receiving the artwork on Thursday morning, Ronset's team worked their magic and Paul came to collect that same afternoon, allowing the Wise Owl gang to go out with their new stencils that evening and complete their campaign. Ronset's stencils worked a treat and saved the day.
Safe Space Pendle & PDVI
The campaign by Wise Owl Creative was to benefit two great local charities; Safe Space Pendle and PDVI. Safe Space Pendle provide accessible accommodation to homeless young people in the Pendle area, providing support and advice to enable a speedy move to independence and training opportunities through resettlement.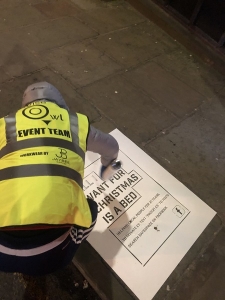 They also aim to provide support to prevent homelessness occurring and recurring in the individuals future.
PDVI help protect and empower people from domestic abuse. They offer services which support people in Pendle over the age of 16 yrs, without distinction of sex, political, religious, or other opinions, to change their situations increasing safety and well being and to respond to the use of abuse and violence in families and relationships.
Need a fast turnaround? Try Ronset on 01254 297100 or you can fill in an enquiry on our Get A Quote page. Want to see how we created the stencils? Click to watch the video: