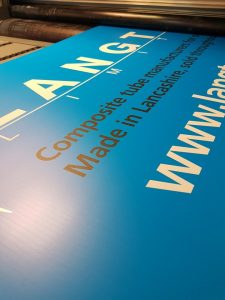 We recently printed these promotional boards for the company Langtec Ltd who wanted an advertising board for this summer down at Darwen Cricket Club where they will be sponsoring the ball. We are sure these boards will be a big hit down at the cricket club at Birch Hall.
Printed Directly To Alupanel
These boards which you can see here in the picture were printed directly to alupanel as this is ideal for pitch side advertising, being long lasting and durable. The boards look very attractive and I am sure will catch the attention of the many cricket fans who will be visiting Darwen Cricket Club over the course of next season and beyond.
For a little background information on Langtec Ltd, they are based in Altham in Accrington and they have been manufacturers and suppliers of a wide range of electrical and thermal insulating materials in sheet, processed to drawing and in tubular form for over fifty years. They are specialist phenolic tube manufacturers as well as mica paper, phenolic and glass fabric tubes in various resin systems, plus processed laminates in phenolic and glass. So if you ever need any composite tubes you know who to get in touch with.
Providing A Service To The Local Business Community
It is wonderful to work with local businesses in East Lancashire such as Langtec Ltd, there is great value in working in the local community and providing a service that people will come back for time and time again. We have also done work for Darwen Cricket Club in the past, and sponsored them, we gave their dressing rooms a new look as you can see in the picture.
If you have a business or run an organisation in East Lancashire, or further afield for that matter, and you need any printing materials, whether that be advertising boards, banners or signs, or digital printing materials such as brochures, leaflets or business cards, then please get in touch with Ronset at our offices on 01254 297100.