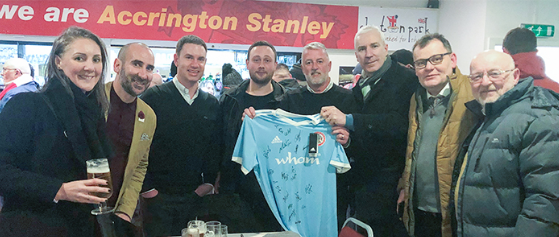 On Tuesday (28th January 2020) we were delighted and not a little proud to be the match sponsors for Accrington Stanley Football Club. They were playing Peterborough United in a very important clash, with Peterborough being near the top of the table and Accrington near the bottom.
Great Hospitality At The Wham Stadium
Even though the scoreline didn`t go as planned, as Accy suffered a 2-0 defeat in a hard-fought contest, the Ronset team had a wonderful time and were looked after brilliantly by all the staff at the Wham Stadium.
We enjoyed an evening of corporate hospitality with their chosen guests which included PM+M Accountants, Lancashire Business View, Creative World and East Lancashire Chamber of Commerce. We all enjoyed a 3 course dinner, drinks and prority tickets for the match.
If you have never been to watch Accrington Stanley at their Wham Stadium home you really should give it a try as it is a real family club who goes out of its way to make all its visitors very welcome indeed, and the facilities just get better and better every year.
Match Day Programme Suppliers
As match day programme suppliers to the club, we turnaround the A5 booklet for every home game on a really short timescale. We enjoy supporting them and love seeing our brand displayed right behind the goals at the Clayton End, if you ever go there be sure to check out our promotional board!
Latest Ronset Newsletter
In other news we have just published our latest Ronset Newsletter. The newsletter has oodles of interesting content in it including pieces about Brexit, our new printing capabilities, THOMAS, our new LED lights & much more, and you can read our newsletter at this very link: Ronset Newsletter.
That only leaves us to say that if you need any print materials get in touch with the Ronset team on 01254 297100 an we will be glad to assist you.