Hello and welcome to the blog at Ronset Printers once again, Today we thought we would share with you some of our most recent printing work that we have done for our clients. If you are not already aware we do digital printing as well as wide format printing, and we can provide various types of stickers and labels as well as personalised stationery items for any business or organisation.
Stand For Landscape Engineering
Here is a display stand that we produced for Landscape Engineering Ltd who are a commercial landscape contracting company based in Padiham in Burnley.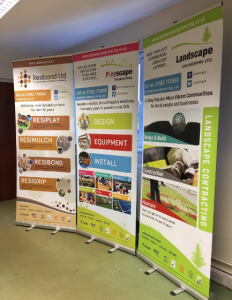 They do urban landscaping as well as ground maintenance and landscape architecture etc, a company very much on the up.
This was created from a quick sketch that was produced by Landscape Engineering and the result was an excellent promotional display for their business that they will be able to use at all sorts of events and shows.
 Pop Up Display Stands
These pop up display stands are very popular with our clients as they are very functional, lightweight and easy to carry around and erect, just perfect for when you are travelling around.
The company were very pleased with the finished product we are pleased to say and if your business or organisation requires any printed display stands, be they pop up stands or curved display stands, we can provide them for you.
Next here is a picture of a brochure we produced for Cardley Weed Control who are based in Darwen and specialise in hot water weed control.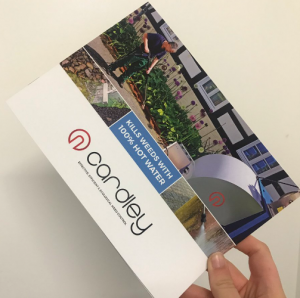 They use an eco friendly and cost saving method to remove weeds for their clients using no chemical additives, so if you have an issue with weeds or anything similar these are the guys to contact.
They wanted some brochures printed for the Great York Show they were attending to show off their latest products so we created these brochures for them.
Again our clients were delighted with the end product which is always the name of the game for us of course.
 Printing On To Aluminium Panels
Finally just a mention about the service we can provide printing direct on to aluminium panels, as seen by the Ronset panel at Accrington Stanley FC below. For anyone who wants a sponsorship board doing for a football, cricket or rugby ground etc we are the people to contact.
Ronset Printing Services
For more information on our services you can give our offices a call on 01254 297100.