Welcome to our blog and today we are not going to be talking about a certain Election that is apparently going on today (although I do hope you are going to vote one way or the other!) but we are going to be talking about how Ronset Print can bring a touch of luxury, and dare I say glamour, to your business, specifically to your printed products.
Gold Foil Printed Finishes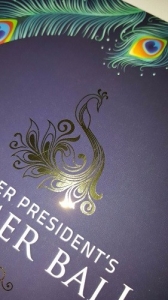 The finishes that we can produce on your printed materials will give them a more upmarket vibe and will make people sit up and take notice. They will certainly make your business stand out from the crowd.
  Here at Ronset Printers we have various finishes we can add to printed materials, from different laminates to coloured foils (see the two pictures). The word `tangible` is the perfect word to use in this instance, these finishes help to give the print a tangible feel and a smell, they help to open the senses, the eyes and the nose, and makes the print come alive and jump out at you.
   We can provide 10 different colour foil finishes, and 5 different laminates, from standard gloss and matt to a linen effect or soft touch.
  These finishes really enhance any printing work that we do for you, whether it be business cards, a quality brochure, certificates or invitations. I am sure if you use one of these finishes the response you get from the materials will be increased greatly and of course this is exactly what we all want. Our materials can drive more enquiries and more sales to your business.
Luxury Printing Materials