The Mimaki CJV 60" Reel Fed Print And Cut Machine
Welcome to another blog post from Ronset Digital Printers, where we have just invested in new machinery to boost our printing processes.
Following on from the installation of the latest Block Foiling and Laminating machine last month, we have increased our Large Format firepower by purchasing a Mimaki CJV 60" reel fed print and cut machine.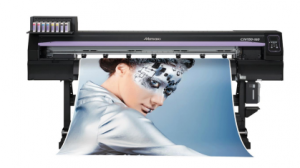 Printing Stickers And Labels
Our Commercial Director Chris Durham commented "The new reel fed wide format machine gives Ronset more diversity in the products we can print. Ronset can now offer the ability to print white which puts us into the label and sticker market with the added ability to cut to shape at the same time.
The Mimaki CJV 60″ brings Ronset right up to date technology wise and adds more products to our already diverse range of printed materials"
Ronset would like to thank Blackburn with Darwen Council for the Assistance to Industry grant which helped with this latest purchase.
We are continually looking to strengthen our position in the printing industry, and this new print and cut machine will mean we will be able to offer even more services than previously. We are really looking forward to using the Mimaki CJV machine and we are sure our clients will be absolutely delighted with the end products that we can print for them.
This latest technology will produce high quality printed products, and if you wish to have more information then please give us a call on 01254 297100 and we will be glad to be of assistance.