Wide format printing is a relatively new process which has made great strides since it was first developed at the end of the last century. The first wide format printers were a form of Electrostatic technology and it was not until later that inkjet technology came along which was jointly developed by HP and Canon.
This type of printing is commonly known as roll fed and flat bed printing as it refers to a digital printer where the roll is fed through the printer or the table moves under a print head array. If you are doing a short print run inkjet wide format printing can be a lot cheaper than screen printing and so has proved a valuable addition to the printing armoury.
You see wide format print in a wide variety of guises as it is used for such items as large banners and posters, trade show graphics, mural backdrops (like the one we have in our office shown in the picture below), wallpapers, presentation screens, for images printed around trucks, buses, coaches and cars, and any other artwork or signage which is being printed on a large scale.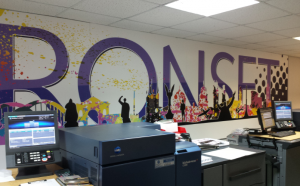 Incredibly, in the world wide market a sum in the region of £50 billion per year is spent on various forms of wide format printing, so it is certainly an industry that is in very great demand.
As you may already know Ronset has a great capability to print all manner of wide format printing materials, and we have recently purchased a new printer especially  for this type of printing.The HP Latex 360 Printer is a great addition to our printing equipment as it produces sharp, consistent, repeatable image quality that comes out virtually dry so there is less chance of any issues with the drying out process and we can get the project finished and delivered to our clients quickly and with the minimum of fuss. It is also environmentally friendly, having met the Greenguard Gold certification standard.
As a company we have invested heavily in new equipment and technology over the last few years to keep the business at the cutting edge of the print world, so we can deliver a range of quality print to our customers in whatever materials, colours and sizes they want. And we know this investment is paying off with the excellent feedback we are getting from our printing services, and long may this continue.