One of our most popular printed materials are our banners, being a wide format printer, and we can provide banners which are suitable for both inside and outside use. They are an excellent method of promoting your business or organisation as they are instantly eye-catching and readable and they can help to place your business in peoples consciousness.
You can use banners as a marketing tool in a number of ways. You can put them outside your building to attract people inside or just give people who are passing a `heads up` about your company and services, or you can put them in the foyer or reception area. You may also want to use banners if you are going to a trade show or exhibition or some other type of event. A good quality banner with the right message can bring people flocking to your stall. It is the time of the year in the UK when there are numerous events up and down the country and so it is the perfect time to invest in some banners to get yourself noticed.
There are also many outdoor events in the Spring and the Summer and if you are running any type of event or promotion you may want to advertise the event by putting banners up in conspicuous places such as roundabouts or paths and walkways (always assuming you can gain permission to do so by the relevant authorities). You could also want them for the event site itself.
Mesh Banners
We can produce printed banners which are perfect for outdoor use. Unfortunately we can never predict the weather here in the UK and it typically starts to rain or the wind starts to howl as soon as you put a banner up and before you know it your banner is in shreds!! Not so with ours because we can provide you with Mesh Banners which are exceptionally sturdy and water resistant, and they also let the wind escape through the mesh which means that your banner will not be used as a sail and turned inside out by the wind.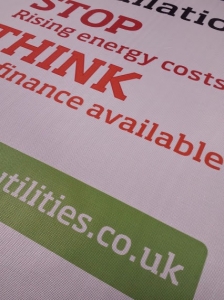 We can print banners from 6 feet up to 12 feet wide and in a variety of depths. All you need to do is to provide us with the artwork for your banner and we can do the rest (of course if you do need help with designing your banner we can also provide a graphic design service to do this for you). So if you would like a quote for one or more printed banners please don`t hesitate to get in touch with Ronset on 01254 297100.