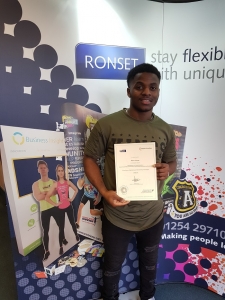 We are delighted to announce that Warren Thomas, who we took on as an apprentice, has now passed his apprenticeship with flying colours. Warren successfully completed his Intermediate Level Apprenticeship in Improving Operational Performance (Performing Manufacturing Operations), in the Science, Engineering and Manufacturing Technologies. He passed all the modules on the course but not only that he has brought so much more to Ronset with his positive and willing attitude.
As Chris Durham, our Commercial Director, stated:
"We are absolutely delighted to announce that Warren has now come out of his apprenticeship after passing all his modules on the course. Warren is a lovely lad, he always has a smile on his face,  gets on with his work and is always eager to learn. Well done Warren keep up the good work."
North Lancs Training Group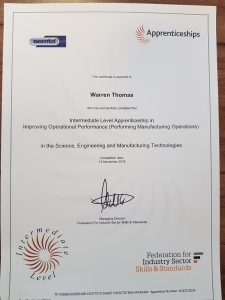 We took on Warren as an apprentice through North Lancs Training Group who are one of the largest independent training providers in the country and provide a fantastic service for any employer who wants to take on a new apprentice. They recruit Apprentices for employers or train existing members of an employer's team. They deliver Level 2, Level 3 and Higher Level 4 and 5 Apprenticeships in a wide variety of occupations – Furniture Occupations, Business Administration, Customer Service, Information Technology, Catering and Hospitality, General Manufacturing, Warehouse and Storage, Trade Supplies, Glass Occupations, Carpentry and Joinery, Team Leading and Management and Retail. So if you are an employer and you would like to look into taking on an apprentice you know who to contact first. In fact we are now looking for Warren`s replacement apprentice for him to train up.
Taking on an apprentice can be very fulfilling and rewarding, and can certainly benefit both the employer and the apprentice, so we would definitely encourage any employer to think about taking on one and helping them get a foot on the career ladder.