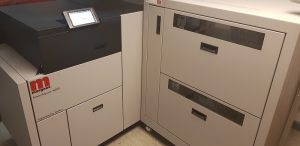 We are delighted to announce that we have just taken delivery of a brand new piece of kit which provides us with the ultimate in booklet making technology. Here is the brand new Morgana PSQ160 + VF Feeder. This will certainly give us more speed and the ability to saddle stitch a thicker book than previously.
Intensive Training Period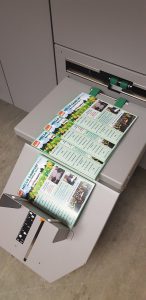 We are in the middle of having a couple of days of intense training and then the kit will be in full production, stitching brochures, programmes, booklets, manuals, magazines.
This 160-model, meanwhile, is aimed at mid- to high-volume printers and can produce books from a wide range of substrates and sheet sizes including A4 landscape. Its USP is the fact it can produce landscape books, so we will be able to produce long sheets and it's really developed a marketplace for landscape booklet production. And with this new configuration creating an L-shape, it really sits in a very small floor space compared to some of the competitors that take up 7m-8m to make the landscape books.
Updating & Improving The Technology Available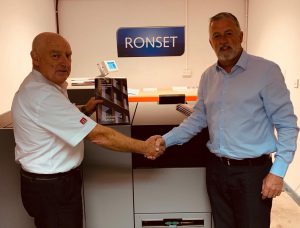 Here in the photo is our Commercial Director Chris Durham having the machine handed over to him. Purchasing this piece of kit is consistent with our mission to continually update and improve the technology we have available at Ronset Printers, keeping us at the cutting edge of printing, and booklet making in this particular instance. We want to provide our clients with the very best printing materials and this Morgana machine will be a great addition to our printing machines.
Top Quality Printing Materials
So if your business requires any printed booklets, brochures, programmes or magazines etc you know who to get in touch with. We can provide top quality printing materials for you, stitched to perfection. For more details on this or any of our other printing services give our offices a ring on 01254 297100.