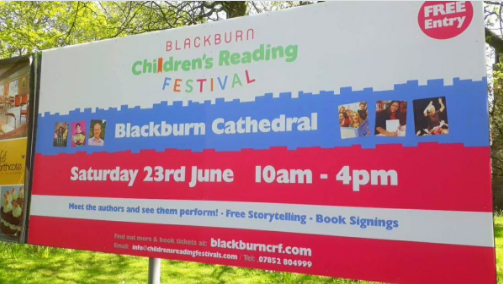 Here is a case study of a banner we created for the Children`s Reading Festival which was held in Blackburn for the first time this summer. We created the banner which you can see in the photo here, along with the leaflets for the event which was held on June 23rd in Blackburn Cathedral.
Look Out For Future Events
Blackburn Children's Reading Festival gave children from all cultures, backgrounds and abilities an equal opportunity of attending a literature festival. All these children's events are completely free so if you have a child or children and you want to get them more interested in reading and literature then look out for more events like this in various towns and cities in the near future.
This was great venture which was excellently attended and we were only too happy to get involved with the printing of the banners and leaflets to play our part in ensuring the event was a success.
Banner Printing And More
If you require any leaflets, banners or any other printed materials please give our offices a call on 01254 297100 or alternatively you can fill in the form on our Get A Quote page.