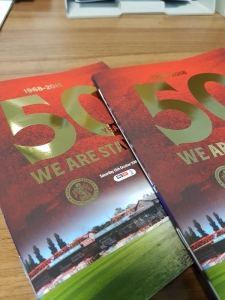 Today we thought we would share with you some of the latest work we have done for clients which may just prompt some thoughts as to how you could utilise our printing services to promote your own business:
Firstly here is the special Accrington Stanley programme, pictured, that we printed for their 50th year celebrations. We printed 800 copies of this particular programme with soft touch laminate and gold foil. We do print Accrington Stanley`s programme for all their home games and it is great to be involved with such a fantastic, iconic local football club.
Printed Stickers
Check out these printed stickers in the picture here, these stickers can be printed on permanent and removable gloss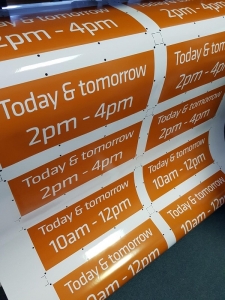 vinyl and the quality is excellent as long as the image we are provided is good. We can print stickers and labels of all shapes, colours and sizes, and in whatever quantity you want them, so if you need any stickers or labels for anything please get in touch with us for more details.
Printing A Vinyl Banner
Below is a video of one of our printers in action printing a 440gm vinyl banner for outdoor use. This banner is 5 metres by 5.5 metres and is will be ready to be eyeletted after printing.
This particular banner is being printing for a company called DCM Surfaces in Leyland who are flooring contractors and do a fantastic job creating various types of outdoor surfaces for their clients including artificial grass surfaces, polymeric surfaces and wetpour surfaces etc. Here is the video below:
Printed Leaflets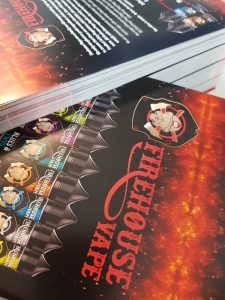 Finally here is a picture of some leaflets we recently printed. These leaflets in the photo are ready to fold to 4pp A5 on 150gm silk. These type of leaflets are ideal to use as giveaways at events such as trade shows and exhibitions etc. If you require any printing materials you can either give us a call for a quote on 01254 297100 or you can fill in the form on the Get A Quote page on the website.