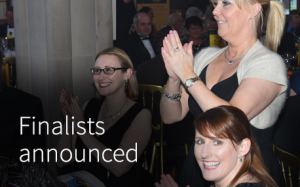 This is a quick blog to remind everyone that it will soon be the Hive Blackburn and Darwen Business Awards ceremony for 2016 on May 26th in the wonderful setting of Blackburn Cathedral. The nominations for all the different categories have now been published with the winners being announced on the evening.
All of the nominations are certainly well deserved and whoever wins the various categories will know they have beaten off some very fierce competition. We are of course one of the sponsors of the awards and it really gives us great pleasure to be involved in such a great event, as the award night is a wonderful way of celebrating all the exceptional businesses and entrepreneurs in the area and to celebrate all their achievements.
The finalists for the awards have priority booking on tickets for the black tie ceremony until 5pm on May 5th, which is tomorrow as I write this, and then tickets go on open sale on Friday May 6th.
 The evening will start with a drinks reception followed by speeches, dinner, a guest speaker and then the announcement of the winners. There will then be a closing speech followed by a chance for everyone to network and generally mingle with all the other guests before the evening draws to a close. So if you can make it to the ceremony I am sure you will enjoy it and it will be well worth your while attending.
Unfortunately Blackburn and Darwen can often receive some quite bad press but there is no doubt that the regeneration of the town centre will make Blackburn look a much more appealing place to visit, and there are many thriving businesses in the town and the surrounding areas along with some seriously talented business people who thoroughly deserve some recognition for their efforts.
Without entrepreneurs creating new businesses there would be little growth and so they should always be encouraged and given the tools and support they need in order to thrive. The Hive Business Awards are certainly doing their bit in recognising the hard work of many businesses and individuals in Blackburn and Darwen and hopefully this will continue for many years to come.
If you are interested in going to the awards ceremony you will be able to purchase tickets from the Hive website on May 6th at the following link:
Hive Business Awards
 We hope to see you there.