Today we thought we would show you some of our most recent print work, as this may give you some ideas of what we can do for your business or organisation. One of the great advantages of being a printer is that no job is the same, there is so much variety in the work we do and so the job never gets repetitive or dull. So here are some examples of our work: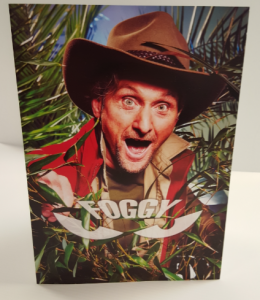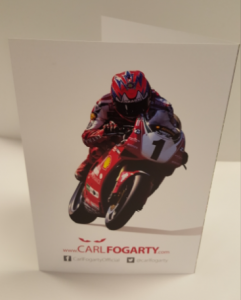 Above are some personalised cards we did for Carl Fogarty who has become a bit of a celebrity of late. Personalised cards like these are a great promotional tool and we can do these for birthdays, wedding invitations or any event you require them for. As you can see the quality of the finished article is exceptional!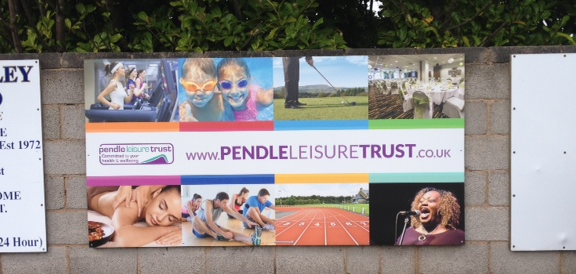 Here is a large promotional banner we did for Pendle Leisure Trust of which we think looks fabulous as it is brightly coloured and very eye catching. This aluminium banner has been placed on Colne Cricket Club and so will be seen by many people over the next few years and hopefully will engender interest in their services and their website.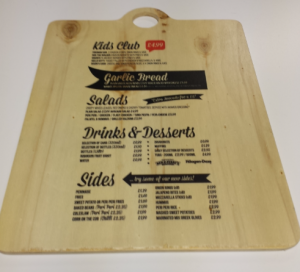 This is a wooden menu board we printed recently, and these are very popular with restaurants, cafes and their customers as these make a very sturdy menu board. As you can see we have the ability to print directly onto wood, and again the finished product looks great.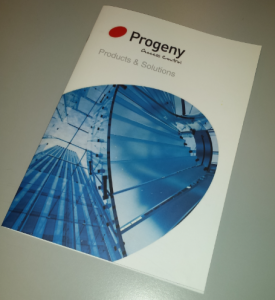 This is a company brochure we produced for Progeny. Company brochures are a great way of getting your message across to potential clients and selling your business to them. If you don`t have a brochure at present, or your present one has become a little outdated and in need of a revamp, please give us a call for a quote for a new look brochure.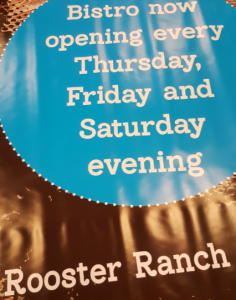 Above is part of a large banner we created for a client. We can create banners which are suitable for indoor or outdoor use, our mesh banners are very hard wearing for external use and because they are made of mesh they let the wind through the mesh and so don`t get caught up and tangled.
If any of those products float your boat, or any other printed material for that matter, please get in touch with us for a quote. You can either fill in one of the Contact Forms on the website or you can ring us directly on 01254 297100, we would love to hear from you.