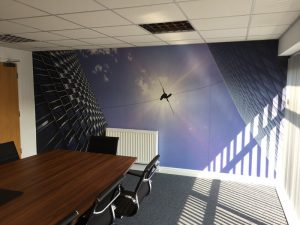 We did some work recently for the Spencer Hayes Group who have their head office in Rawtenstall and a registered office in Hyde, Cheshire. They had just moved into some new premises and they required wall graphics for their boardroom as well as their general office.
Designing Bespoke Wallpaper
We love doing this sort of creative work and we fitted bespoke wallpaper created from an image supplied by the Group, and used their logo for the cut vinyl.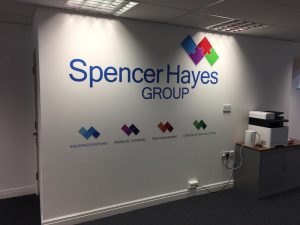 The result, as you can see by the photos on this blog, is a stunning looking boardroom and office which they can proudly use to invite clients to. A lot of care has to go into these sort of wall installations as the finish has to be just perfect and we are pleased to see that the work was just as requested and the Spencer Hayes Group were absolutely delighted with the new look.
Experience In Creating Wall Installations
We have done lots of wall installations over the years for a range of clients and so have a lot of experience in designing, printing and installing these. A good looking graphic on the walls of offices and in receptions etc can really lift a room and help a business to promote their services to anyone that enters.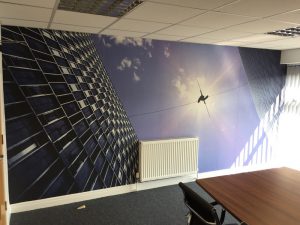 Whether a business has a particular design in mind or not it doesn`t matter, we can work from scratch if required and use our graphic design service to create a stunning looking backdrop.
Print & Design Services
So if you have an office or some other area of work that needs bringing to life to help promote your business and your brand we can give it a brand new look. For more details on our print and design services please give us a call in the first instance on 01254 297100.